'And None Of Them Knew They Were Robots' exploded onto the Leeds punk scene in October 2000. Playing alongside the likes of 'Les Savy Fav', 'Cave In' and 'The Dismemberment Plan', the band have cemented their position amongst the UK punk rock elite with a tour of England.

Below Is The Full Set from 02/04/02 at The Vic Inn in Derby, I think all the tracks are from their debut CD. Part One


The Robots, formed from an amalgamation of accomplished bands, combine emotive vocals, duelling guitar work, syncopated rhythms and solid driving bass lines to deliver a melodic post hardcore sound. Inspired by many styles and Underground bands, including 'Planes Mistaken For Stars' and 'Sunny Day Real Estate', the band draw on influences from different aspects of life and music to create something totally new.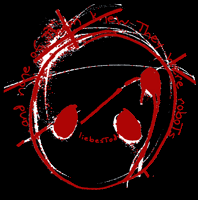 The Robots have produced two records in their commitment to create a solid accomplished sound. The growth and development of the band and their music is clearly apparent from the contrasting sounds of their self titled debut release and Liebstod MCD.
The Vic Inn in Derby, Part Two

Don't expect the normal Robots post hardcore/emo stylings from the latter this is in your face Minor Threat hardcore and is affectionately known as the 'Hardcore EP'. Liebestod sees The Robots pay homage to Minor Threat one of the bands that influenced them so much in the early days, John Sutcliffe from Canvas adds backups on 'Drifted Driver'.
Damion's (Killerest Expression) Tattoo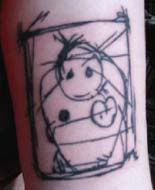 'And None Of Them Knew They Were Robots' went on to release one more record 'Victory As A Drug' but saidly decided to call it a day.