Originally Beecher was to be a collaborative group incorporating local musicians interested in working on a heavy and eclectic project. Mark Lyons (Guitar - Drmeatdic, Ewoc, Necropsy) was asked to bring his Experimental/Avant Garde guitar/ noise style into the group as a full time member. Songs soon began to take shape and by June 2001 they had found the perfect vocalist to round off the line up. Ed Godby volunteered his services as a frontman/ singer after seeing the band perform a one off instrumental show in Manchester.

After only a month of rehersals the band recorded their first demo cdr which contained five songs spanning the entire sound spectrum, from quiet ambient melodies to full on heavy hardcore/metal to abrassive, discordant noise/ electronics. In August 2001 Beecher performed for the first time as a whole band. The demo was now slowly being distributed to labels and fanzines.

Beecher at the Derby, Vic Inn 5th May 2002 Part One


When we got hold of a copy we decided this band was definitely worth an official release. "Resention Is A Big Word In A Small Town" MCD Is that release. Recorded at Premier studios in Corby over four days with Iain Wetherell in January 2002. Beecher backed this release with over 60 of their now legendary live performances in the last year (2002) and amassed critical acclaim from a wide range of the music press. A further limited edition split 7" was released with The Leif Ericsson which features 2 songs not available on 'Resention' to coincide with their joint tour.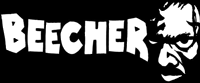 Beecher went on to release their truly amazing debut full length 'Breaking The Fourth Wall' on Calculated Risk Records in 2003. This record was rereleased by Earache Records worldwide just after Beecher signed with them at the end of December 2004. A further third album was released through Earache 'This Elegy, His Autopsy'. I think you can still get these 2 releases from www.earache.com. 'Resention' and the split 7" are still available in our store.
Beecher at the Derby, Vic Inn 5th May 2002 Part Two

Beecher decided to call it a day in 2006 and played one farwell gig at the 'Star And Garter' in Manchester aptly that's where it all started for them. At the start of 2011, Beecher annouced they would be reforming to play a number of gigs to celebrate their 10th anniversary and as they only played one farwell gig, to give fans the chance to see them one more time.