Buzzkill are a rock band hailing from Leeds, West Yorkshire. Some people say they play rock 'n' roll, some people say they're more punk rock, one thing that's not disputed is that they play LOUD!

The Buzzkill of today was formed at the turn of the millennium. No longer a band of schoolmates playing Nirvana covers in Joe's garage, these guys were now ready to take their uniquely brassed up punk rock 'n' roll onto the road and have since played alongside bands including The Distillers, Pretty Girls Make Graves, Hot Water Music, Goldblade, The Hunns, Horrorpops, Capdown and The Damned.

In the autumn of 2002 came their self-financed debut 7" which found it's way onto Radio 1's 'The Lock-up' and shortly after their debut CD 'Double Down' which hit the shelves in April 2003 and received much adoration from the press. Double Down was the combination of 2 of Buzzkill's self released CDEP's.
Following the release of Double Down, Buzzkill continued to play further afield, touring the pubs, clubs, and squats of Germany, Switzerland and Holland in Spring 2003.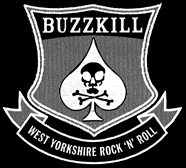 After that Buzzkill hit somewhat of a hiatus as their original bass player Joe Osborne felt his time with the band was done. But upon enlisting one time stand in bassist Carl Glover to take Joe's place, a fresh drive and passion was instilled in the ranks. With the five piece as solid as ever, and their involuntary slowing down well and truly in the past, they set about writing a whole bunch of new material. Thirteen songs of which manifested themselves in October 2005 as their debut full length album, "DRIVEN BY LOSS"! And with these brand new songs came a brand new swagger, these guys were amazing live! Radio One's lockup played tracks from 'Driven By Loss' a number of times, the guys were booked in and recorded a session that was aired on 8/11/05
Members of Buzzkill went on to be in The Dead Reckoning