DanDare were a Dutch hardcore punk band that started in 1989. Ever since then, they have recorded several demos and contributed to a stack of compilations. Their short and fast songs are influenced by bands like Suicidal Tendencies, Minor Threat, Dead Kennedys, Slapshot, DRI, MDC, Sick of it All, and many more.

Their songs are basically about individual freedom, thinking for yourself, and all developments in human society that are a threat to this, like fascism, nazism, intolerance, repression and so on. Thinking for yourself does not mean thinking solely about yourself and not caring about what happens in the world around you. It means thinking critically about oneself and what goes on in the world, whether it is on an individual or a collective level.

They believe that individuals should have the opportunity to become aware of what goes on and to grow to what one might call complete human beings. Everything that hinders this development is considered to be a danger to individual people and in the end to society at large. Music might not have the power to change the world, but it can have a meaning by shedding a light on topics and express views and opinions. That is what they are trying to achieve through their music. In the end we are all in this together, so we better make it good.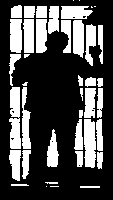 We got a copy of their album 'Define It, Defeat It' and liked it so much it was licensed from Madskull Records so In At The Deep End could release it exclusively in the UK & Ireland, and we're well chuffed to be involved with the release, because we think it's a hardcore masterpiece.
Dandare went on to release 'Uncritical Mass' on Break Some Records, 9 songs squeezed into 13 minutes of ultrafast old school hardcore, it's not like you expected Dandare to switch to emocore, did you? Of course not. This is fast, faster, fastest. With intelligent lyrics that force you to think about the problems in our society, so you also learn something from these guys as well. But the most important thing is that Dandare knows how to play kick-ass fast hardcore, like they played it in the good old days.
Vocalist, Michiel is doing Tense Reaction,who started where DANDARE left off,more technical sounding hc,but still fast and thrashy... go check em here.