The Devils are the musical equivalent of an unpicked scab, you know it will hurt and probably scar you for life, but you just can help picking at it until the blood drips and the hard lump of congealed blood and dead skin comes off under your unclipped dirty finger nails. And even though you know it's going to sting and hurt like fuck, you can't help going back for more to dig a little deeper under your skin and satisfy that itch.
Comprised of ex-members of fiercely independent UK hardcore noise veterans Stalingrad, Hard To Swallow, Doom and Extreme Noise Terror, The Devil's debut album 'How I Learnt' is a vicious full-throttle assault to the senses that fuses the dirty punk noise of their former bands with a red-raw metallic edge that shows Metallica's latest piss weak attempt at heaviness and aggression up for the past it sell outs they truly are. The Devils deal in an entirely more frightening form of musical hostility and their live performance truly represents that. Fronted by twin screamers Rich and Pete, these two shaven haired screwed up balls of rage screech and bawl their way across the grinding Sabbath meets razor-slashed punk noise crashing from the amps, often so completely consumed by the music that they'll physically attack each other, screaming into each other's faces as they grapple each other to the floor and smash into the crowd leaving a trail of destruction behind them.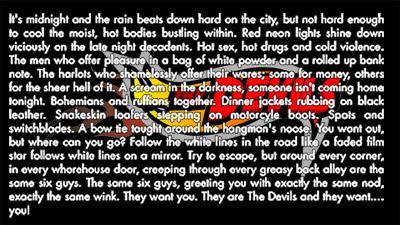 The Devils bring no light relief. There's a dark and severely twisted lyrical and musical under-current in tracks like 'Don't Rape My Dear Papa And Then Rub Your Penis In My Face' and 'One Mans Meat Is Another Mans Forearm' that leave the listener feeling uncomfortable, confused but most importantly, morbidly curious to find out more to determine exactly where these ferocious fiends are coming from. This is the real deal. This is not some careerist driven rock band with one eye on the money. The Devils are a howl from the underground that just keeps getting louder.
Recorded 26/04/02 in Nottingham. Wayne's first gig with The Devils

Pete left being replace by Wayne former singer in Doom, sadly Wayne passed away and The Devils decided that it wouldn't be the same without him so called it quits.