Hailing from Andover UK, Everything For Some formed way back in 2001 consisting of Chicken (Vocals), Nathan Tomlinson (Guitars), Ashley Tomlinson (Drums), Edward Warner (Bass). "We started the band simply through our love of music. We have always loved watching live shows and all share the same tastes and passion for music so starting a band together just seemed like the right thing to do". This they did quickly gained a reputation as being one of the most exciting new live bands in the U.K

Having been compared to everything from melodic hardcore to groove core (whatever that is) from punk to metal, Everything For Some take their influences from a wide range of artists including Helmet, Will Haven, R.A.T.M., Public Enemy, The Deftones, Grand Funk Railroad and The Exploited to name just a few. From this Everything For Some blend together their own unique style of aggressive political charged hardcore rock. "We just play whatever we think sounds killer and play it as hard and as passionately as we can."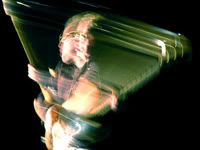 After gigging relentlessly up and down the country for a year taking their passion fuelled live performance to the masses and gaining a strong fan base Everything For Some entered the studio to record a three track demo. This sold all 2000 copies made within three months. The opening track of which 'What You Need To Know' was played a number of times on the Radio One Rock Show as well as being played solidly for 2 months on Total Rock Radio and reaching number one on the Total Rock Request Chart.
In May 2003 Everything For Some opened for Kill2This / Breed 77 on their national tour receiving great reviews from the major magazines and fanzines alike. With the friendship Everything For Some built up on this tour they went back into the studio in early 2004 this time with Mark Mynet (Kill2This) at the helm, to record their highly anticipated debut album 'A Thought Refused '.
Below is the bands submitted artwork for the album, this is why we got Mattias Norén from www.progart.com in to help!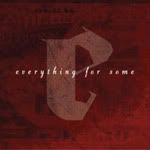 "We are all extremely happy and proud of 'A Thought Refused', It has been three years of very hard work to produce, with a number of setbacks, having no money struggling to find places to rehearse, working shitty jobs to pay for the album. But listening back on the record it has all been worthwhile."
In June 2004 Everything For Some joined up with In At The Deep End Records, and 'A Thought Refused' was released in the Autumn of 2004.
"The title sums up the feeling of the album perfectly. Obviously we have written these songs with a specific thought as to what they are about and mean to us. But like the message of the band and any of the songs the title is left open to interpretation. The title to me reflects anger, injustice and also positivity which is the feeling we were trying to achieve with this album."

Everything For Some went on to release a further album 'Identity' on Copro Records, then decided to call it a day, but on the 12th Feb 2011 Everything For Some had a reunion gig and it went so well more are to follow.