Sanzen a quintet from Nottingham, members Ben Kumar and Scott Briggs, guitar and drums respectively, are by no means rookies, that's for sure. Having previously played in My War, and as a result shared stages with the likes of Sepultura, Entombed and Eyehategod, they're deserving of at least 16 minutes of your time.

The past, as great as it is, is the past, it's all about Sanzen now. Playing "guitar swinging, rock 'n' roll good time music", as they put it, it's hardly surprising they've managed to land support slots alongside luminaries such as Funeral For A Friend, Bullet For My Valentine, Life Of Agony, Skindred, Downset, Waterdown and more recently Pitchshifter.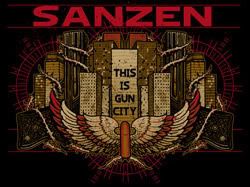 Takening their blend of metallic hardcore, coupled with their rock 'n' roll attitude into the studio a 2 track CDEP was self released entitled 'This Is Gun City' this was very well received and even got KKKK in Kerrang. From the back of this EP we giot the guys to go back into Pristene Studio's and make the EP into a full length album. With the addition of Dan Mumford (Gallows) amazing artwork (N.B. artwork was supplied for the front cover without the hands and gun, they were only on the onbosy but we decided it added extra interest in the cover if they were included) 'This Is Gun City' the full length was brought to the world. 'This Is Gun City' rack up some great reviews Terrorizer, Metal Hammer, Rocksound, Total Guitar all scoring them 8/10 and receiveing another KKKK from Kerrang.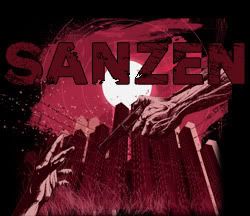 Sanzen went on to tour the UK spreading what they descibed as 'Man-core' to the masses, but all good things have to come to an end. We never felt that Sanzen got the recognition they deserved, but 'This Is Gun City' is an amazing album, taking all the rawest elements of hardcore punk, rock and metal, and fuse them to create this pug-ugly beast of unstoppable speed and crushing heaviness with a depraved rock'n'roll groove Lemmy would be proud of. They also owned the stage and were a whirlwind of fresh ai. We at IATDE will always be extremely proud to have released such an outstanding record.