Shaped By Fate began life in late 2001, quickly gaining a reputation for their intensely chaotic live shows and cementing their place as a highly influential figure in the rapidly burgeoning South Wales music community.

Over the years that followed, the band has borne witness to numerous line up changes, each time evolving into an ever more dedicated and focused group, whilst continuing to build their strong presence on the UK live circuit with constant shows and tours. Playing with such international heavy weights as Everytime I Die, The Red Chord, Bleeding Through, Walls Of Jericho, Terror, Funeral For a Friend, Sikth, The Black Dahlia Murder and Throwdown, in addition to UK and European tours with the likes of Parkway Drive, The Chariot, and Raging Speedhorn, has pushed the band to new levels in their onstage performance.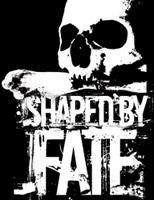 Shaped By Fate's impressive live profile is also backed by a hungrily received recorded output: a self released demo in 2002, 'The Fire Which In The Heart Resides' split EP in 2004 (Mighty Atom Records), and 'Brightest Lights Cast The Darkest Shadows' EP in 2005 (Beniihana Records), all of which received rave reviews in the UK music press, whilst the latter was championed by Radio One's Rock Show who described the EP as 'an essential purchase'.
'The Unbeliever', the bands debut full length album was released in 2008 to critical aclaim. It was a breathe of fresh air in the UK metalcore scene that had become a bit stale.
For many bands, the years have been hard and very few have endured the swings and roundabouts of fickle scenes and changing trends. Shaped By Fate have survived all this and come out stronger whilst most importantly sticking to their proverbial musical guns. Now one of the stalwart bands of the UK metal scene, Shaped By Fate have an ambitious worldwide touring schedule planned and are set to take both their musical and geographical horizons to their furthest extremes over the coming years. It's gonna be one hell of a trip.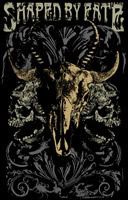 Shaped By Fate self released a DVD of loads of live footage entitled 'Riffage And Wreckage' available directly from the band's myspace. At the start of 2011 Shaped By Fate signed a deal with Seige Of Amida Records to release Shaped By Fates 2nd album (4 years in the making) entitled 'I Fear The World Has Changed'.