With a track record that's to die for, Ricky and David (ex Anthem of the Century), Stu (ex Nerves) and Andy (ex 67th Morning) formed Steel Rules Die late in the winter of 2001, building on their considerable experiences to skilfully combine their love of hardcore with all-important melody, in the vein of classic bands like Lifetime, Hot Water Music, Avail, Reach The Sky and Dag Nasty.

Their growing reputation saw them successfully tour the UK and support bands such as Strike Anywhere, As Friends Rust, Grade and Agnostic Front. 'Nostalgia for Beginners' was their debut release. These eight songs bristle with energy, passion and desire, tearing the heartstrings and the vocal chords at the same time as one chorus builds into another. With this release Steel Rules Die have upped the ante, taking the quality of UK hardcore to new levels. The touch paper has been lit, stand back and watch this band fly.
'Nostalgia for Beginners' got top reviews and from the press interest the band were offered the main support slot on AFI's UK leg of their 'Sing The Sorrow' tour, plus a number of other tours.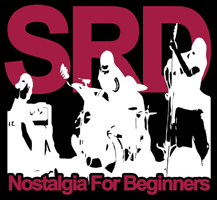 'Nostalgia for Beginners' also turned the heads of Reflection Records, who released 'The Hemingway Solution' the bands full length in April 2004. The band went on touring but when Dave left the bands due to work commitments and even though replacements it was never as fun as it originally was so they decided to call it a day.
N.B. We were lucky enough to catch Steel Rules Die's first ever gig and it was from this we offered them a release on IATDE.